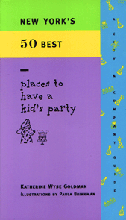 Listed as one of "New York's 50 Best Places to Have a Kid's Party", a Tumbling Party is a very special way to celebrate a birthday.
Two Hours Include:
1 1/2 Hour of gymnastic instruction, an interactive adventure story, parachute games and a balloon-drop in a creative and safe environment with colorful party decorations.
1/2 Hour to serve birthday cake and drinks which you provide. We provide a full table setting for the children, including party hats and blowouts.
We also provide serving bowls and baskets for your snack food, cups for cold drinks, ice bucket, candles and utensils for the cake.
Cost: $700 for up to 16 children (count includes birthday celebrant), $25 for each additional child. The maximum group size is 20 children. 
The following are just some of the party themes available:
Where the Wild Things Are Party
Minecraft* Party
Captain Underpants* Party
Batman's Cave Party
Circus Party
Outer Space Party
Star Wars Party
At The Beach Party
Cinderella Party
Lion King Party
Knights in Shining Armor Party
Firefighters Party
Peter Pan Party
Camping Party
Thomas the Tank Engine Party
Pokemon Party
Land Before Time Party
Thomas the Tank Engine Party
Blue's Clues Party
Power Puff Girls Party
Bob the Builder Party
Spiderman Party
Wizard of Oz Party
Harry Potter* Party
Secret Agents Spy Party
Pinkalicious Party
Curious George Party
Lizzie Maguire Party
*Themes available for additional fee due to prop and materials costs
For an additional fee, Children's Tumbling can create a custom story for your child. We are experts at creating custom parties for all imaginations!
Families planning a party at Children's Tumbling should review the party guildelines.